Despite trailing his opponent by slightly more than two hundred votes, Democratic challenger Al Franken stands a strong chance of passing Sen. Norm Coleman during the upcoming recount, according to at least one prominent political scientist.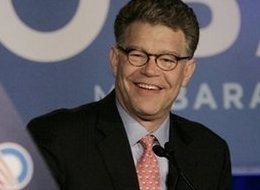 Professor Michael C. Herron of Dartmouth College, has put together a new study of the voting patterns in Minnesota, in the process determining that the majority of voters who cast unrecorded ballots in the Senate race were likely Franken supporters.

"If someone put a gun to my head and said, 'You have to bet,' I would bet Franken," Herron said, when reached by phone. "It won't be a wipe-out. Two hundred votes is effectively tied. We just know that, in this case, Democrats tend to [screw up their ballots] more often [than Republicans]." In Minnesota, the "intent" of the voter is considered during recounts.
According to Herron's analysis, of the 2.9 million people who went to the polls in Minnesota, there were approximately 34,000 residual voters in the Senate race. In other words, there were 34,000 more ballots cast than total number of recorded votes for all the Senate candidates.
Why the difference? A good portion of voters, Herron concludes, voted in the presidential election but deliberately did not vote for a Senate candidate. These people won't matter when it comes to a recount.
There is, however, a portion of the 34,000 who intended to vote for one of the Senate candidates but messed up. Voters were supposed to fill in the circle next to the name of the candidate they supported. Some, however, marked X's. Others circled the name itself or crossed out the names of candidates they didn't like.
This group is key to determining the Minnesota Senate victor.